APFL & Partners Interviewed on VTV1 about Arbitral Awards in Vietnam
Last week, APFL & Partners Of Counsel Antoine Logeay spoke to Vietnam's national broadcaster Vietnam Television 1 ("VTV1").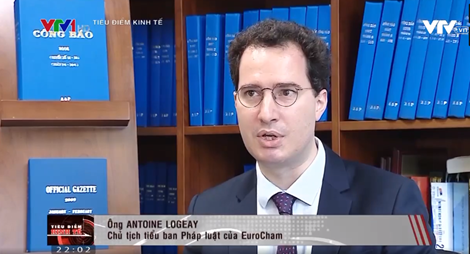 Antoine spoke to VTV1's Economic Focus show as a prominent foreign lawyer in Vietnam and also as Chairman of the Legal Sector Committee of the European Chamber of Commerce ("EuroCham"). He was invited to discuss the challenges which arise during the execution of judgments and arbitral awards in Vietnam. 
Antoine highlighted some of the challenges of commercial arbitration and litigation in Vietnam. For instance, court judgments are generally not made public. This leads to a lack of well-established precedents and reliable case law that could make the outcome of disputes more predictable for investors. He also discussed how regular refusals by Vietnamese courts to enforce international arbitral awards – despite being one of the signatories of the NY Convention – affects the prospects of Vietnam attracting international investors. 
Antoine then shared some brief recommendations for legislative change in this area. First, he highlighted how publishing court judgments would provide welcome guidance to investors on how laws will be applied in practice. Second, he suggested that the Law on Enforcement of Civil Judgment should be revised so that creditors have an effective mechanism to identify the assets of their debtors.
Those who missed it can catch the show again here [in Vietnamese]. To find out more about arbitral awards in Vietnam, contact our office: contact@apflpartners.com